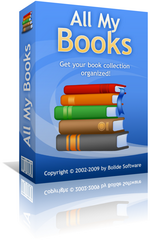 Say YES to Worrying LESS Using First-Rate Ebook Library Software
Got troubles organizing your ebooks properly? Many people do actually, since the number of books in our collections is growing and it's getting harder and harder to handle them effectively. It's time to stop it and start enjoying all your books. Discover the leading-edge ebook library software - All My Books is sure to take your ebooks organizing headache away! Thousands of devoted users love it because they forgot the troubles of organizing their ebooks, paper books and audio books!
It's know-all software
Yeah, sounds unbelievable, but it's true! The ebook library software has direct 24-hour access to the best online ebook databases around the world and any time you like it delivers info into your library. Just within seconds all the fields in your book card are filled in! If you keep your ebooks and audiobooks on the hard drive, it's even easier, since you can just scan the drive for books and here you are! As simple s ABC! You are sure to love the option of starting your audio books and ebooks right from the software, since it saves a lot of time!
It juggles with ebooks professionally!
It doesn't matter how large your collection is, how diversified it is, the ebook library software will handle it easily and efficiently. Using this powerful software, you can sort and group books in multiple ways. Quick filters and advanced search by multiple criteria will help to filter your collection immediately and find every single book in your messy collection! Using various tools available in the program, share your collection in different formats with friends.
It looks just awesome!
The first thing most users do, once having installed the ebook library program, is adjusting ebook collection to the taste. Use the skins, various templates available and amazing view modes. You may further personalize your collection adding your ratings, your own marks and additional fields. Make your collection really personal! Yeah, you can also print your book cards or even the whole books collection. Make a colourful album of your books with pictures and all the necessary information and enjoy it!
It does take care!
Your ebook library deserves to be safe and secure and All My Books knows how to ensure that. This ebook library software really cares! Automatic backup system is always on guard and if your computer crashes by some reason, your collection will still be safe! Loan manager keeps an eye on the books lent to your friends and reminds you when they are going to be back. Password protection system helps you to limit access to your book library. Sounds good, doesn't it?
Okay, say good-bye to organizing troubles - go and download All My Books right now - for 30 days it's free! It has got all you've been dreaming about! Your collection deserves the very best!